Partners
We invite companies that implement CRM or Asterisk systems to cooperate!
The Itgrix connector is designed to integrate Asterisk IP telephony and CRM systems (Bitrix24 or KOMMO CRM) and is available in the international market.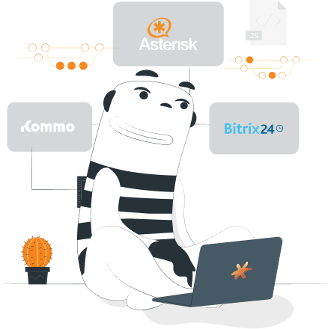 More information about the functionality of the integration module with
Conditions of cooperation
Partner rewards
By purchasing a license for the Itgrix integration module for your customers, you get a partner reward:
The total amount of the reward depends on the cost of the selected tariff for the Itgrix module.
If you sell one Itgrix integration module license per year, the NFR module license for the partner is free.

Work scheme
The client pays you directly for the license and you buy the license from us less the commission amount. Therefore, the reward is obtained immediately.
Important: Clients coming from a partner are registered in a separate CRM and are excluded from our marketing activity for Bitrix24/KOMMO CRM license sales.
For that:
Submit the customer's company name;
Indicate the address of your portal.
Our partners
The Itgrix partner network has spread throughout Europe, Asia, and Latin America, and we have more than 70 participants (Bitrix24, KOMMO CRM, Asterisk integrators).
You will be in good company: