About
the Itgrix team
Important information about the integration module development team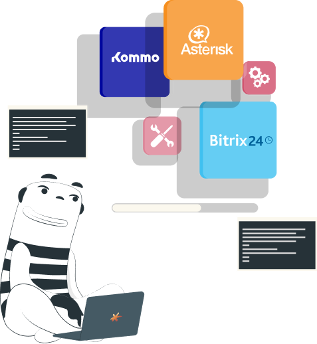 About us
Itgrix is ITgro's team of web developers. We are dedicated to the development of the Asterisk IP telephony integration module with CRMs systems, as well as the implementation and development of integrated systems. We are official partners of 1C-Bitrix24 and KOMMO CRM.
Our name has 2 roots: the first part is taken from the main brand ITgro (Itgro), and the second refers to the main direction of the activity (* is the official symbol of Asterisk IP telephony).
Advantages of Itgrix
*Itgro, a developer company, has been in the web development market since 2010.

place in the category of best author of Apps24*

*In 2020, according to Bitrix Awards.

customer satisfaction index*

*In 2020, based on internal analysis.

countries using the Itgrix connector

working languages of the connector and technical support*

*Integration module and technical support in Russian and English.
Our clients
We work with medium and large companies in Europe, Asia, North America and LATAM. Our clients are companies from different areas (production, machine building, trade, cargo, real estate, IT, HORECA, medicine, education, finance, e-commerce and other spheres of services).
Albania

Argentina

Armenia

Australia

Austria

Belarus

Bosnia and Herzegovina

Brazil

Cambodia

Canada

Cape Verde

China

Colombia

Costa Rica

Czech Republic

Dominican Republic

Ecuador

Egypt

El Salvador

France

Germany

Hungary

India

Indonesia

Israel

Italy

Kazakhstan

Kenya

Mexico

Moldova

Morocco

Nepal

New Zealand

Nigeria

Northern Macedonia

Pakistan

Panama

Paraguay

Peru

Poland

Republic of Haiti

Romania

RSA

Russian Federation

Saudi Arabia

Serbia

Spain

Switzerland

Tadjikistan

Thailand

UAE

Ukraine

United Kingdom

USA

Uzbekistan

Venezuela

Vietnam
Our team
Our team brings together all the necessary specialists: integration module developers, Bitrix24 and KOMMO CRM implementation consultants, technical support specialists, Asterisk configuration experts, account managers and area leaders.